Hearing deficiency is a largely unaddressed problem in our country. Partially as it is nonlife-threatening. But it hampered the growth and speech abilities of children not to mention the inability of youth and elders to participate in society. Suryodaya screened 400 people in rural Orissa out of which 350 were hearing impaired. After evaluating the most crucial patients, especially children whose growth and speech largely depend on their hearing, Suryodaya donated 224 hearing aids on World Hearing Day March 3rd, 2023 in Bhubaneshwar. Patients were screened from remote areas like Rairangpur, keonjhar, puri and Bhubaneshwar. Our event was blessed by the honourable Governer of Orissa Shri Ganeshi Lal jee. We will soon announce the other states where hearing camps will be conducted.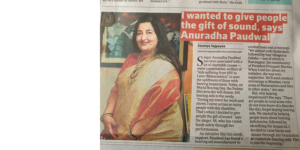 The COVID-19 GLOBAL PANDEMIC
COVID-19 is an ongoing crisis. People have been affected at various levels. While we donated concentrators, ventilators, medical equipment, and other necessities to hospitals the pandemic is still making it difficult for families to find their bearings. It has cost a lot of people their livelihoods and has orphaned children. Families are struggling to rebuild their lives. Suryodaya is helping them one step at a time by providing food, utilities, sanitation products, and cash to pay their rent while the bread earners secure new jobs. We have recently donated provisions and cash to 'boot polish' workers who are daily wage earners at Mumbai s railway stations. Their livelihoods were affected due to reduced passenger traffic.
There are thousands of others who need our help while they get back on their feet. To support post-Covid and Covid-related endeavors please donate through our payment gateway or connect with us directly…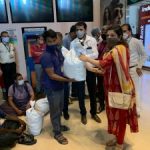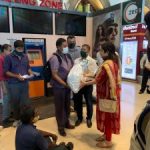 Suryodaya has been at the forefront of services related to Healthcare. Our founder Anuradha Paudwal donated a neonatal care unit to Nanavati Hospital in Mumbai, in memory of her late daughter Chandana. It was inaugurated by the late Shri Sunil Dutt in 1988. This was followed by sponsoring various heart operations in association with the late cardiologist Dr. Nitu mandke. Recently we have conducted several medical camps with Sirona Diagnostics for the underprivileged and continue to do. Anuradha jee has also worked with Starkey Foundation, Hyderabad to provide hearing aids to children from lower financial backgrounds. Covid has taken a mental and physical toll not only on patients but also nurses and doctors. Anuradha ji s son Aditya Paudwal inspired Suryodaya to help and encourage the latter with cash incentives .. our way of saying thank you for their tireless efforts. The Arun Paudwal Memorial Foundation which honored musicians in the past is now helping, our front line lesser appreciated heroes. Our founder is also counseling them in person, on zoom, and through her music.
Suryodaya believes in giving but also in making a society self-reliant. Hence our future projects will comprise tying up with doctors and hospitals who will train educated youth in villages to provide basic non-medical health care when there is the dearth of medical personnel. More about this project in the future